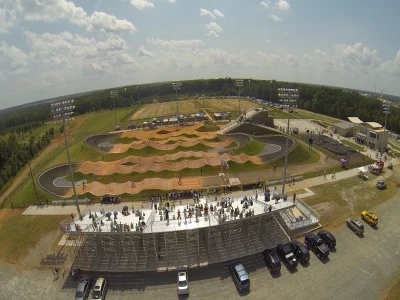 Rock Hill BMX SX Track, USA
When Rock Hill BMX Supercross (SX) track in South Carolina, USA, was chosen as the venue for the 2017 World Championships, the city called Clark & Kent to carry out essential improvement works.
Clark & Kent travelled to the United States and rebuilt the Novant Health BMX Supercross Track. The choice of the venue for the 2017 World Championships meant every aspect of the BMX track build needed special attention to detail.
Build time was approximately two weeks using a typical US specification for the soil and asphalt for the corners. Since completion, the track has hosted a range of high-profile BMX race events, and the rebuild by Clark & Kent is proving to be a resounding success.
Located at the Rock Hill Outdoor Center in the Riverwalk Development, the Novant Health BMX Supercross Track is the first Olympic-standard BMX training facility to open to the general public on the US East Coast. The track features amateur and elite supercross start hills and a skills-building pump track.
Since the track rebuild, Rock Hill BMX SX has hosted many events, including the USA BMX Gold East Regional Championship, the USA BMX Carolina Nationals, and the USA Cycling National BMX Championships.
As well as hosting world-class events and championships, the facility offers instructional programmes, open track sessions for all ages and a pump track where riders can develop their track racing skills.
Client: City of Rock Hill, South Carolina, USA