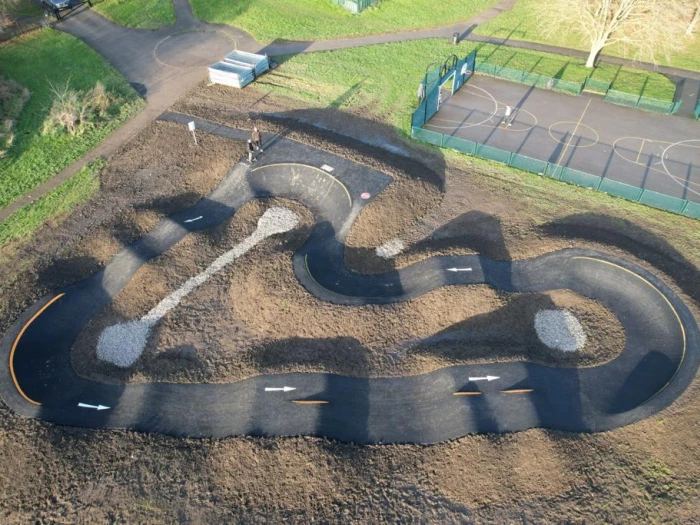 Rein Park pump track building
Clark and Kent Contractors were chosen to build an all-weather pump track in the grounds of Rein Park, Leeds. Clark and Kent were chosen due to their experience and professionalism in delivering this type of project, booked for construction in November 2022.
The LS14 Trust and Groundwork charities, alongside the Local Leeds City Council, had been working towards creating a pump track facility at Seacroft for several years. We were happy to consult with all stakeholders to work out the most cost-efficient turnkey solution to provide an all-weather multi-wheeled facility for the local community.
After some design changes to accommodate site constraints, we included a split straight design to give the users a progressive and safe way to build confidence and encourage riders to fully use their potential.
The pump track building work was completed in just five weeks. The building project involved measuring and marking track limits, groundwork, surfacing and landscaping. We designed and installed a tiered hard pipe drainage scheme to ensure full water runoff from the track. This included additional features to accommodate the location next to a multi-use games area. The site's natural topography was also taken into consideration.
The track surface, line marking scheme, and directional arrows are all typical of the high standards we set ourselves in all pump track construction projects. We guarantee a maintenance-free riding surface for many years while users of all ages and abilities are catered for.
For more information regarding any of our tracks, trails, or skateparks, don't hesitate to contact us for more information or advice.
Rein Park is an open green space with fixed activities like a children's playground and a football pitch. It's located in the inner-city suburb of Seacroft, about four miles east of Leeds city centre. For many years Seacroft was a small village in Yorkshire but was transformed by the building of a huge council estate. Rein Park has a standard-sized football pitch for public use, a multi-use games area and a children's play box hosted by the LS14 Trust.