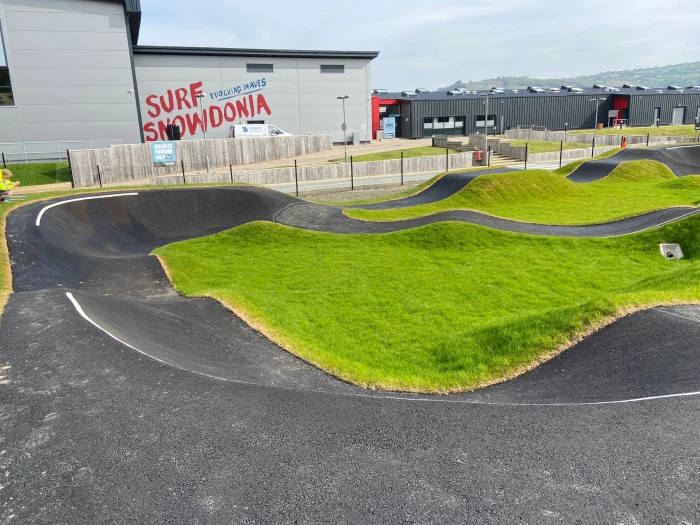 Conwy pump track construction
Clark & Kent Contractors won the tender to construct the exciting new pump track, learn-to-ride area and caver-bowl at the all-new Adventure Parc Snowdonia site in North Wales.
The Adventure Parc BMX pump track, learn-to-ride and caver-bowl areas took eight weeks to construct. During this time, Clark and Kent dynamically monitored and adjusted the design process to ensure the various project areas blended into the landscape.
The contracted works for the Adventure Parc pump track included:
Site clearance
Measuring and marking out
Importation of material
Shaping and compaction of material and sub-base
Drainage works
Tarmac surfacing
Line marking
Turfing scheme
Adventure Parc Snowdonia is the only inland surf lagoon in the UK, making it Wales' premier adventure tourist destination. It boasts a two-metre high wave that can last 16 seconds and travel 150 metres in one surf! Adventure Park Snowdonia claims this is the longest artificial surf wave in the world. Now, with the addition of the three Clark and Kent Contractors' facilities, it has the makings of an exhilarating, fun-packed experience for all ages.
In the iconic setting in the foothills of Snowdon, Clark & Kent relished the opportunity to create another example of their BMX track construction even though weather conditions were difficult. The Adventure Parc pump track will not only be an asset to the park but also to the broader community. "In the first week, the centre received up to 1,000 visitors a day. Before winter closure in 2015, the facility was booked at an average of 97% occupancy in its first season.