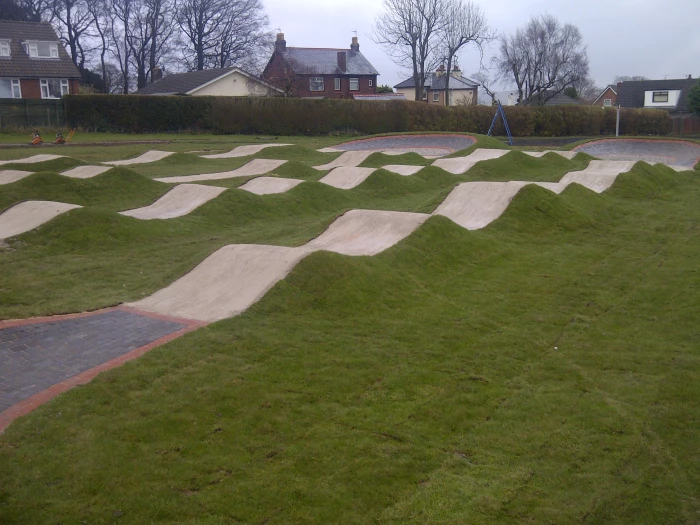 Treuddyn pump track construction
Treuddyn BMX Pump Track in Flintshire was one of a range of new facilities that have revitalised the North Wales village. The BMX track features six straights and five block-paved turns, as well as a paved start hill that helps to make this a unique and picturesque facility.
The pump track is around 280 metres long, and it incorporates a return path for the riders. The track was turfed on completion, giving it an instant finish while blending in with the surroundings. Treuddyn is a small rural village in Flintshire, North Wales, on the A5104 road, linking Llangollen, Corwen, Bala and the Snowdonia National Park to Chester and Cheshire.
A village officially opened its £150,000 bike track after securing £500,000 in community grants. The bike track build came in the wake of a new play area for Treuddyn and the renovation of the village hall. Village groups pulled together to secure funding for the projects, which has helped to breathe new life into the community.
The funding for the bike track (built in three months) and the play area was supported by £149,000 from the Welsh Assembly's Aggregates Levy Sustainability Fund and £25,000 from its Youth Service Strategy Capital Grant. The BMX Pump Track was built by Clark & Kent Contractors for Treudynn Parish Council in four to five weeks.