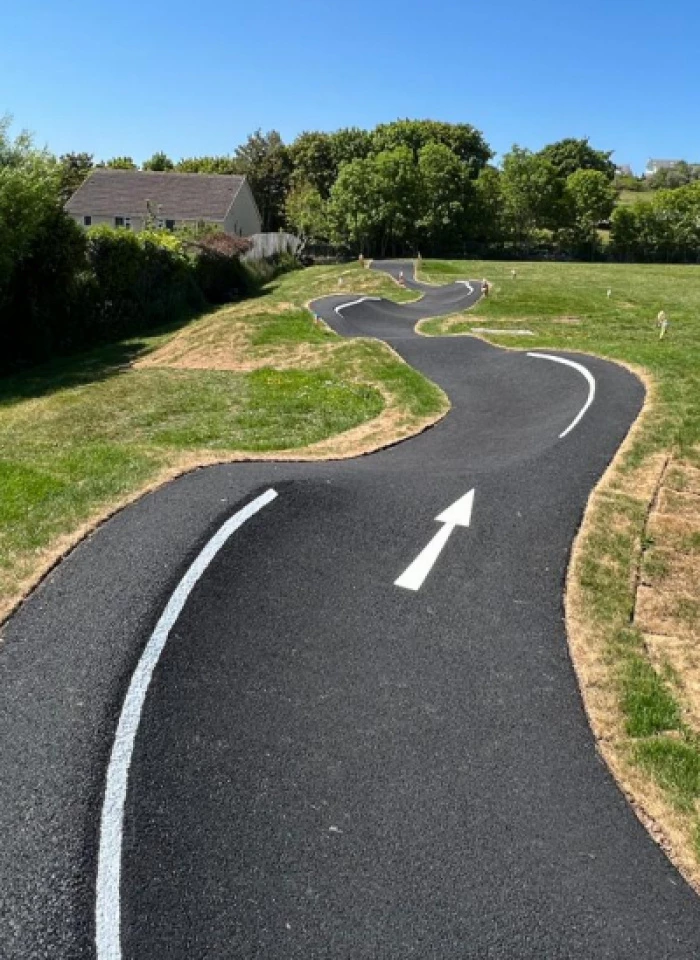 Ysgol Cynfran School pump track.
It had been a vision of Ysgol Cynfran in Colwyn Bay, Wales, to provide a modern cycling track for several years. Following consultation with the youngsters, they decided on a pump trail track as their favourite option and championed by the school's headmaster, the journey began.
With successful grant applications and funding found, Clark &Kent started construction in April 2023. The scheme was designed to incorporate all the fun and excitement of a BMX pump track with a safe and progressive bike trail. Careful consideration was given to berm angles and feature spacings to achieve the best all-round usability for the all-weather, all-ability tarmac pump trail.
We started talks about the constraints needed to construct the track and trail whilst the school remained open. Careful planning of machinery use and material movements ensured the safety of children, especially at arrival, collection and play times.The plans worked faultlessly over the six-week construction time. They were a testament to the organisation and communication between contract workers and teachers at the school.
Once track construction was complete, we widened the pathway to the rear of the school buildings to create a learn-to-ride and cycling proficiency area. Road markings were added to make a safe learning area for pupils new to cycling and to help teach road safety.A turfing scheme, cycle stands and additional storage areas provided the finishing touches to the school's new cycling facility, which was completed in May 2023.
Ysgol Cynfran pump track and trail project is another example of how Clark & Kent has evolved its products and range of services to meet the demands of the mini-wheeled and cycling sector.