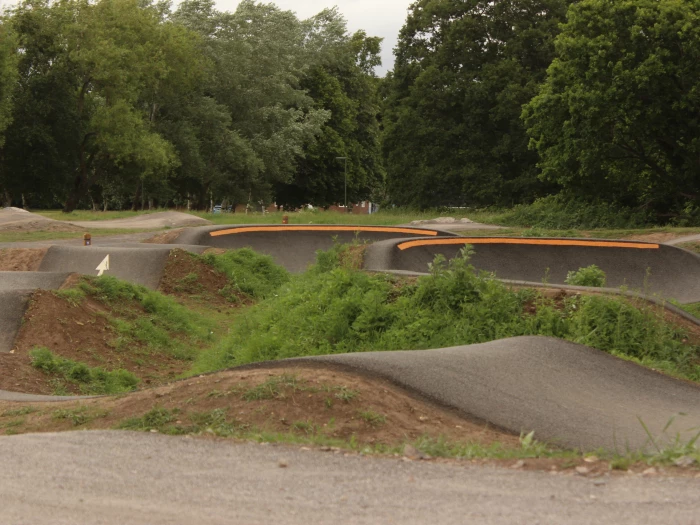 Goldsworth Park MTB Trail
Goldsworth MTB trail is part of a larger scheme for the park that included a pump track and cyclocross route making it a one-stop cycling hub for Goldsworth and the surrounding area.
Clark & Kent was chosen for the Goldsworth Park cycling project due to their unrivalled experience in BMX track, pump track and MTB Trail building. With Olympic standard BMX riders on the team, we brought the added value of rider input and attention to detail that set us aside from general contractors.
The site strip is a good example of our work in and around trees, protecting root zones and avoiding drip lines to get the most organic and ecologically sympathetic build possible. We carefully reused all stripped organics in the landscaping work at the end of the track building project to retain the natural balance of the site. The results can be seen in the natural growth in the landscaping of the area. We also stayed locally to minimise travel time and sourced many materials locally to reduce our carbon footprint.
Clark & Kent advised saving construction costs in consultation with the local council. Our transparent work ethic is part of our commitment to providing clients with the highest return on investment.
All aspects of the Goldsworth Park MTB Trail track project were completed on time and within budget. Our opening day included a community benefits package to encourage less experienced riders to come forward and enjoy the new trails.
Site work at Goldsworth Park included a sympathetic site strip and drainage works. Track building involved substructure placement, shaping and compaction, tarmac surfacing, added MTB features, extra cyclocross elements, landscaping and turfing, and a thermoplastic track marking scheme. Members of Woking, Charlotteville and Horsham cycling clubs were among the riders tackling the challenges of the new track on its official opening.
The upgrade follows Woking Borough Council's successful bid to British Cycling to secure £60,000 in funding to invest in reforming the old track, located by the lake in Goldsworth Park. The council matched the funding with an additional £60,000. The council thanked all residents and park users who participated in the consultation and provided invaluable feedback passed on to Clark & Kent Contractors to consider in the final design.