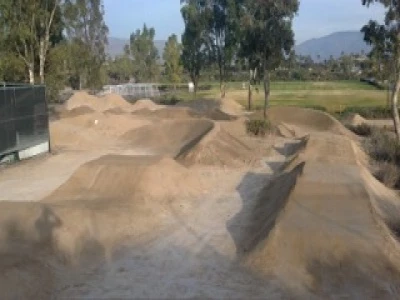 Chula Vista pump track design and build
When we received the call from USA BMX Program Director Mike King at USA Cycling to build a BMX Pump Track, it was a dream come true for the team at Clark & Kent. The brief was to build a comprehensive pump track facility that included two BMX SX training straights with berms and a start hill and carry out track maintenance on the existing facilities.
Clark & Kent worked on the track design and supplied consultancy services and 3D drawings during the planning stage of this prestigious project. Unlike European BMX tracks, American specifications require the circuit is mainly constructed from earth only. The Chula Vista BMX pump track is designed to challenge and improve the skills of elite Olympic-level athletes and features sections that reflect different styles of BMX tracks found throughout the world.
There are examples of steep French-style rhythm sections, long mellow American-style sections, multiple berms and challenging straights that include road gaps and a box jump. The track is constructed of dirt with skid steers compacted with rollers. Test riding of the circuit was carried out by 2008 Olympic BMX Silver medalist Mike Day, GT's Corben Sharrah and Crupi BMX team rider Tyler Brown.
Clark & Kent also constructed two BMX SX training rhythm sections to standard American specifications. The straights are 110 metres long and include an array of obstacles such as step-ups, step-downs, doubles, triples and quads. The straights incorporate a three-metre-high 180° berm to replicate a BMX race-style environment.
The Chula Vista BMX complex is not just for pro riders. It is open to the public so BMX riders can get on track riding terms with current Olympic athletes. The Chula Vista track is considered one of the top tracks in the USA and is a nationally ranked BMX track. You can find more details and photos of the Chula Vista BMX complex here.