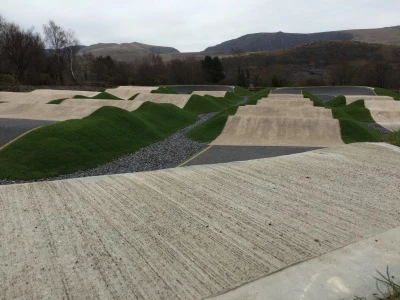 Talysarn BMX track building
Clark & Kent Contractors were selected to construct a new BMX track at Talysarn, south of Caernarfon in the Snowdon National Park of North Wales. The £183,000 track at the former Gloddfa Glai site in Talysarn features the same sections first used in the London 2012 Olympic Games.
The BMX circuit was built on outdoor public space that was once a hotspot for anti-social behaviour, and Clark & Kent were primary contractors for this ambitious BMX project. Works included site clearance, tree removal, ground remediation and the installation of drainage.
The BMX track was built with material won from the site, and sub base surfacing was applied and compacted. A first of its kind in the UK is charcoal block paving, so the track blends in with surrounding slate quarries and other landscape features.
Once the circuit was complete, Clark & Kent installed a post and rail spectator fence with relevant fixtures and supplied and installed a straight-eight Pro Gate start system – the original one used at the London 2012 Olympics. The new track was funded by CIST Gwynedd, Mantell Gwynedd, Snowdonia National Park's CAE Fund, Welsh Government, North Wales Police, Cartrefi Cymunedol Gwynedd and Magnox Ltd, with project management undertaken by Gwynedd property consultants Wakemans.
Both clients and fund providers were delighted with the results, and the BMX track has proved a resounding success and an asset to the village of Talysarn and North Wales. BMX bike club Cruisers Talysarn, formed in 2000 by a group of residents, set up a community-owned skatepark on the former Gloddfa Glai site and succeeded in attracting further investment to expand the facilities. For more information on the Cruisers Talysarn Club visit their Facebook page here.
Client: Cruisers Talysarn, Gwynedd