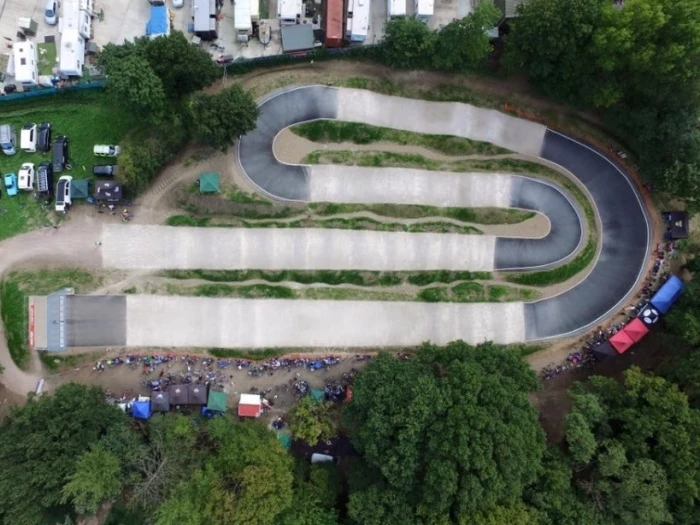 Runnymede Rockets BMX race track design
Clark & Kent was contracted to design and rebuild the Runnymede Rockets BMX Club racetrack in Addlestone, Surrey, on the footprint of their original circuit.
The Rockets were sentimental about preserving the original BMX race track, and they didn't want the BMX track rebuild to deviate too far from the original.
The initial objective was to finalise designs, apply for planning permission and raise funds to update the track. We worked with the club, consulting the user group and active club members to deliver a tailored BMX track design.
Clark & Kent Contractors undertook the BMX track upgrade work at very short notice. The track building works included the formation of existing track material, sub-base compaction, tarmac surfacing, drainage modifications, line marking, landscaping andreinstatement.
The Runnymede Rockets BMX track rebuild has been a brilliant success for the club, local community and the South BMX region. BMC rider numbers have continued to increase, and the club goes from strength to strength. Runnymede Rockets Chairman, Tony Horan, commented on the BMX track rebuild:
It was a pleasure to work with a professional team like Clark & Kent. Their work has meant we are now able to train riders to the highest level, and they can get ready for national competitions on our new track.
The Surrey-based Runnymede Rockets BMX Club was established in 1983, and the 10-ramp track in Brackendene Open Space, Addlestone Moor, is used regularly by around 150 club members.
Anyone interested in details about BMX club events can visit the Runnymede Rockets Facebook page, or take a virtual ride on the BMX track with this Runnymede Rockets video.