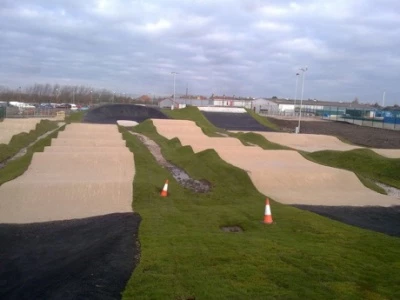 Rhyl BMX race track construction
Marsh Tracks is an award-winning 1.3-kilometre closed-circuit road cycling track and a national standard BMX race track based at Rhyl in North Wales. The Rhyl BMX track is a unique design, built within a Gabion wall retained area and features several asphalt access paths.
The track built by Clark & Kent Contractors features multiple level third and fourth straights as well as a first straight, which suits more powerful and skilled BMX riders. A Bensink start gate was installed along with anti-skid plates, the same starting gate system used for the 2012 London Olympics. The build time for the Rhyl BMX track project was four weeks, in conjunction with Dawnus Construction, on behalf of Denbighshire County Council.
Marsh BMX is regarded as one of the UK's best cycling facilities. Marsh Tracks is a great place to learn or improve BMX riding and other cycling skills with qualified coaches on hand. The track is home to the newly formed Dragon Riders BMX club, which offers training for youngsters and has a Facebook page here.
Marsh Tracks at Rhyl hosts many athletics and sports events ranging from cycling to running, skating, skiing, and BMK biking. There is a variety of cycle coaching on offer at Marsh Tracks covering many cycle sports disciplines such as BMX, cycle speedway, cyclo-cross, mountain bike, road and track.
Client: Denbighshire County Council.