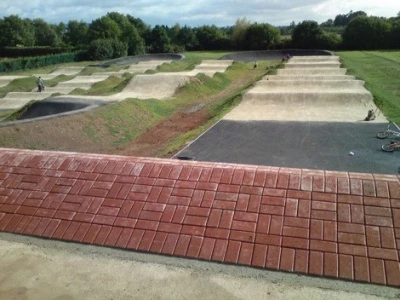 Hereford BMX track construction
The BMX racetrack at Hereford, built by Clark & Kent, is the first in the UK to feature a Bensink start gate, similar to that used at the 2012 London Olympics. The BMX track features asphalt turns, a stone sub-base and a dolomite surface.
The track at Hereford is 300 metres long, and the width varies from five to 10 metres. The track features an asphalt finish strip and a multi-option straight that can test the skills of BMX riders to the limit. It is used and maintained by the Hereford Dirt Riders BMX club, and the race track is perfect for all levels of riders, from beginners to the most experienced. You can visit their Facebook page for details of upcoming BMX events.
Visitors say the Hereford BMX track has a great family vibe, and the facility is used by BMX bikers from all over the country.
Herefordshire Council and the National Lottery funded the project. The BMX track building was completed in three weeks, and all parties were delighted with the results.
Clark & Kent Contractors received many compliments on the speed and standard of construction.
A typical comment is this post on the BMX Talk forum: "Those guys know what's up when it comes to building tracks of any size. They work tirelessly and can gladly show you how to ride it, too, so you know it all rolls well and everything works!"
Client: Herefordshire Council.