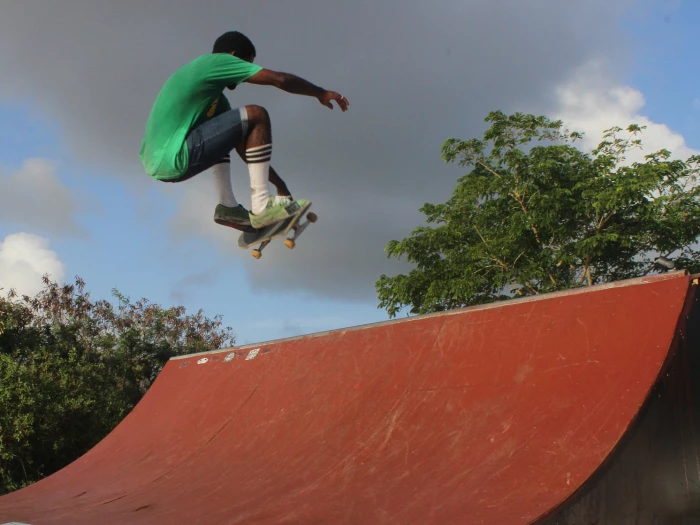 Skateparks have become increasingly popular and appeal to a broad cross-section of youngsters.
Building a skatepark can now be considered a relatively cheap way of providing a community facility highly valued by successive generations.
Skateboarding appeals to the younger generation, and purpose-built facilities have sprung up everywhere, from urban estates to university campuses.
It is an athletic sport that can be highly challenging, and many communities have decided it is worth providing a safe place to skate.
A skatepark can lure youngsters away from their computer screens and into a sporting pastime that builds confidence, improves health and provides demanding challenges.
For communities looking to build a skatepark, there are challenges in store. Professional skatepark builders Clark & Kent can offer advice on planning, design, construction and maintenance.
Planning a community skatepark
Community support, location and funding are the key elements in planning to build a skateboarding facility. The first thing to do is research the current amenities in your area and find out if there is any provision for BMX riding, skateboarding or rollerblading. If there is, operators could provide helpful information on developing a skatepark. If not, it is still worth checking if any similar projects have failed in previous years. It is well worth talking to local schools to assess demand and consult local youth or sports development officials working in the area. If there is enough support for the project, launching an action group to plan events to publicise the skatepark project is often helpful. The group can build an online presence through social media and organise publicity campaigns. And it's not just youngsters who should be invited to join a skatepark construction project. Parents, teachers, youth leaders and local councillors can be encouraged to get on board to ensure the scheme has a broad community appeal.
Finding a skatepark location
Once there is a groundswell of support for your skateboard project, you should approach your local council for help finding a suitable skatepark building site. The actual numbers involved and the amount of funding available will often determine the size of the project. The local council planning department is usually the first port of call when getting clearance to build a new skateboarding facility. Councils may also supply information about schools and youth clubs in the area, what planning permissions are in the pipeline, and if a planning application is likely to succeed. In choosing the location for building a skatepark, you may need to consider road access, transport links, parking provision and so on, depending on the size and scale of the project. You will also need to look at the proposed site, the nature of the soil, drainage and watercourses and former land usage. This is especially important if it is a brownfield site with some previous industrial use. The wise will also tackle relevant issues such as toilet provision, litter management, power supply, signage and public amenities. And do not forget to approach the local police to learn about any problems they may have.
Funding a new skatepark
New skateparks are not cheap, but then again, they are not too expensive to build either. It may be best to talk to experts on skatepark construction, such as Clark & Kent Contractors, when it comes to funding. They have a great deal of experience talking to community groups, local councils, police, building inspectors and even fundraisers. They may be able to give some good advice on how to get a new skatepark campaign underway. Funding will depend mainly on the size and scope of the project, which in turn is dictated by the budget. Determine how much funding might be available from the local council, sports development organisations and other public bodies. Many will match funding from the community pound-for-pound, while cash may also be available from grant aid for land use.
National Lottery funding
There may be grants for community projects, sports development and, of course, the National Lottery. Most Lottery funding is to groups with a governing body and documents such as a constitution, trust deed, memorandum and articles of association. They offer some helpful advice on funding applications here. The site details award programmes for such schemes as local community projects (up to £10,000), community sports assets (up to £150,000), sport development grants (up to £25,000) and small sports grants (up to £10,000) – there are many more.
Cash from your local community
Most important is raising cash from the local community, and here you may need help organising fundraising activities and promoting the project in the local community. Another useful way to reduce the cost of a skatepark is to get construction materials donated to the project. Local firms seeking the community's goodwill will often supply concrete, wood, and equipment.
Skatepark design and construction
Building a skatepark takes a lot of design and construction expertise, so it is best to talk to companies with proven experience in the field, such as Clark & Kent Contractors. But first, it can be helpful to visit other skateparks to see their features and facilities. You can find out what schemes have proved the most successful and what pitfalls were uncovered by those who embarked on similar projects. Getting professional plans drawn up before construction contracts are signed and work gets underway is crucial. As many community skateboard schemes work to tight budgets and timeframes, there must be no contractual hold-ups. Skatepark and BMX track building contractors like Clark and Kent will work closely with community groups and other interested parties in drawing up designs based on the community brief, land availability, site access and facilities.
Cost of building a skatepark
How much a new skatepark will cost is impossible to answer without a design and build plan in place. Some skatepark features can cost more to construct than others – overhangs, cradles and pipes will cost more to build than simple ledges and planks. One of the elements often overlooked in costing out the construction of a skatepark is drainage. Skateboarders will not want to splash through pools of water. Skateparks built into a broader park development can be substantially cheaper than standalone projects. And additional provisions may have to be found for associated facilities, such as fencing, seating and landscaping. But in any cost analysis, it is essential to include the costs of annual upkeep and maintenance.
---
More on skateparks
If you want help with a skatepark construction project contact Clark & Kent Contractors. They are a specialist BMX track building and skatepark company with extensive experience in helping communities plan, design and build skateparks across the UK.