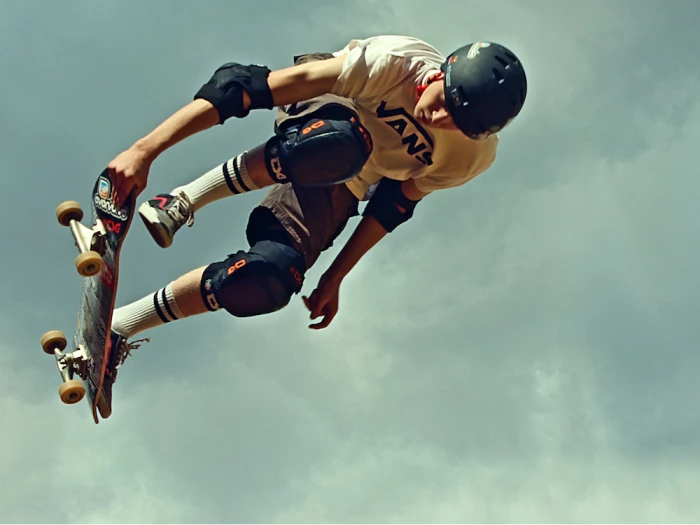 Skateparks are nowadays a common sight in cities and towns all over the globe. Thanks to their considerable community appeal, skateparks are not only being built by private companies and local groups. Still, they are also often incorporated into new housing developments and urban improvement schemes.
Skateparks can help revitalise city parks, rejuvenate urban spaces, attract young people, and improve the quality of life for communities. The size and structure of skateparks can vary, from ad-hoc prefabricated plywood units to sophisticated concrete plazas that can challenge the most skilled and practised skateboarders.
Innovation in skatepark design and construction continues as demand for skatepark building grows in both the public and private sectors. Developments in skatepark construction are shaped by sporting trends, new building techniques and materials, as well as aesthetic appeal and environmental considerations.
Popularity of skateboarding
Skateboarding is a high-speed sport that requires agility, balance and nerve. Its popularity has spread, and the sport has dedicated clubs, magazines, web channels and clothing apparel. Its appeal is mainly to teenagers who can spend hours practising, but young adults are increasingly attracted. It originated in California as part of the surfing scene but soon spread worldwide. With technological advances, skateboards have become lighter, faster and more durable. It is not without its risks. Performing tricks requires balance, coordination and quick thinking at high speed to avoid injury. Helmets and protective pads can offset the dangers of skateboarding, but the thrill of spills is very much part of the attraction.
Skatepark design and development
Traditional skatepark design centres on the square or rectangle with jumps and berms laid out in various patterns. Modern skateparks come in all shapes and sizes, with many built to integrate into an existing urban space. Skatepark designers have risen to the challenges of demanding skateboarders, environmental constraints and limited budgets. Creative skatepark building allows new parks or plazas to be incorporated into multi-use developments or 'shaped' to complement existing public spaces. Traditional parks often mimic the 'street plaza' features typified by the sharp geometry that echoes city architecture. At the same time, modern layouts opt for more 'transitional' free-flowing curvilinear and bowl-like forms. Skatepark designers often look for creative and original ways to combine traditional and modern layouts with plaza-like street forms and transitional elements.
Skatepark construction materials
As the interest in skateboarding boomed, many companies emerged, providing cheap prefabricated structures of wood, metal and polymers that could be easily installed on an existing concrete or tarmac base. Many proved unpopular with skateboarders, with limited designs, inferior surfaces that suffered damage from regular daily use, high built-in maintenance costs, and safety concerns. Skateboard structures bolted together to resemble a real skatepark rarely retain their initial appeal, and many companies that offer these 'cheap' alternatives can go out of business. Most skateboarders favoured concrete surfaces and cast-in-place custom-built plazas long outlast parks built with prefabricated materials. Concrete ensures design flexibility, needs little maintenance and gives the best grip for skateboarding in all weathers. It requires specialised construction skills and is more expensive to build initially, but it saves money in the long run. Skate plazas constructed with precast concrete structures are as durable as ordinary concrete parks, but skaters often find them unattractive, dull and lacking appeal. The non-profit Skatepark Foundation is unequivocal in saying the only material you should choose for your outdoor skatepark is free-form cast-on-site concrete.
The case for building a skatepark
There are many reasons for communities to consider building a new skatepark. Here are just some of the reasons:
A well-designed and constructed skatepark will last many years with little maintenance. Plazas in the UK have been operating for more than 30 years with little more than the odd tidy-up.
Skateboarders are generally under-resourced despite offering healthy outdoor exercise for modern youths despite being the third most popular recreational activity for teenagers.
Skateboarding, like BMX riding, has been common in urban areas for many years and is now a fixed and enduring part of popular youth culture.
Skateboarding is a relatively inexpensive activity that requires little equipment, provided there is a place to enjoy it.
Skating in a well-designed park is much safer than skateboarding in the street, and skateparks are public recreational places that can help bind communities together.
Skateparks are shown to improve the health and well-being of users and reduce social exclusion and anti-social behaviour. The skatepark will not only benefit users but will also be an asset to the whole community.
---
More on skateparks