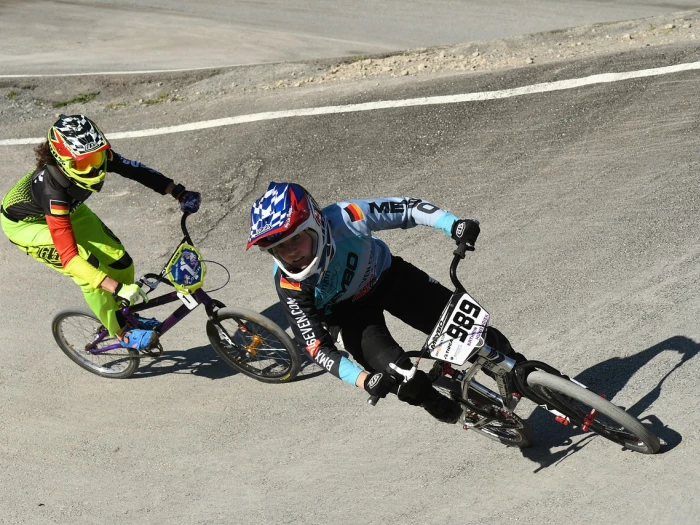 BMX biking is one of the fastest-growing sports in the UK, offering a massive range of sporting opportunities for enthusiasts of all ages.
BMX racing got a big boost at the Olympic Games in Beijing and an even more significant increase in Britain when it featured at London 2012 on a world-class BMX track built by Clark & Kent Contractors.
Since then, BMX racetracks have sprung up everywhere, ranging from simple beginner pump tracks to international supercross stadia.
The growth of BMX racing
An offshoot of dirt trail racing in California, the popularity of BMX racing spread first across America in the 1980s and then the rest of the world in the years that followed. Championship BMX races were regular events. Still, it wasn't until the Swiss-based Union Cycliste Internationale (UCI) standardised rules and regulations in the 1990s that it became an internationally recognised sport. Now BMX race events are held on tracks across the country, with many built to national and international standards with regulation start ramps, banked corners, jumps, straights and rhythm sections.
BMX tracks for beginners
Youngsters all over Britain are taking up the sport of BMX racing thanks to coaching facilities available at many BMX tracks for all ages and all riding abilities. Many start on a simple pump track, learning the basics of the pump action vital to conditions where racers rarely have time to use the bike pedals. BMX racing skills are first picked up in local parks or backyards, then honed at local BMX clubs and tracks until enthusiasts are ready to compete. The highest-ranking BMX racers are highly trained athletes with superb sprinting ability, bike control, and an extraordinary passion for the sport.
Building BMX racetracks
Clark & Kent Contractors are world-renowned for their BMX track-building skills, having built scores of tracks in the UK and abroad. BMX track-building experts at Clark & Kent will tell you that no two ways are the same but as riders themselves, and having helped draw up the UCI guidance on track design, they know a thing or two about BMX tracks. Even simple back garden pump tracks built of dirt can be exciting to ride and offer a test of skills and ability. Club and county BMX tracks are usually 350 to 400 metres long and can take eight riders at a time on elevated start ramps with a variety of bermed corners, hills and jumps, which can demand high speeds and nerves of steel.
BMX racing events
Eventually, riders progress to race meetings where they can test their skills against other riders. Sessions can be fast-paced days of all-in action that have both riders and spectators in thrall. Events usually begin with qualifying heats, known as 'motos'. The fastest in qualifying get the best starting positions for the next race, and riders can progress through knockout rounds to reach the finals. As races only last for a minute or two and follow each other in quick succession, the pace is often fast and furious. The UK has several regional racing leagues which accept riders from across the country, with race events held throughout the year. They are often family-friendly events, with the more compact tracks helping to promote a family atmosphere. Some events are time trials where riders compete alone against the clock. Time trials can rank riders before the primary race, or they may be races in their own right, with the fastest rider taking the cup. Those who progress to competitive BMX racing will need a full race licence to win points in any regional or national ranking competitions. British Cycling governs all aspects of sports cycling in the United Kingdom, including BMX within the UCI.
BMX racing kit
The first requirement is a BMX bike with a sturdy but light frame, a single gear, and a single rear brake. Standard-sized bikes have 20 – 24-inch wheels, but there are mini versions for younger riders. Entry-level bikes are relatively cheap, but pro riders will have expensive models, often made from exotic materials and with precision parts. Full-face helmets are compulsory for BMX racing as crashes are not infrequent, even in training. Gloves, knee and elbow pads, and thick jerseys or coats are recommended to provide all-around protection. Riders can buy jackets, trousers, goggles, boots, vests, belts or even socks to complete the outfit.
---
More on BMX bike training