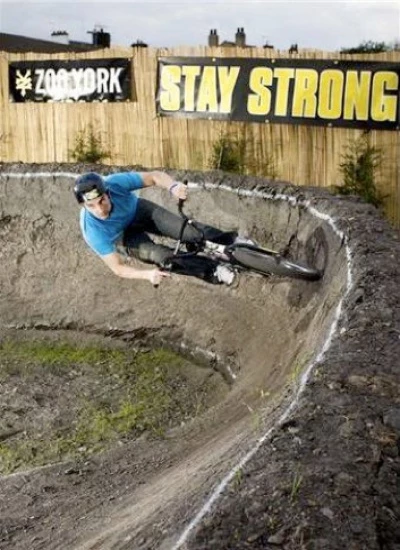 Marco's pump track building
Marco is known worldwide within the BMX community, and when he approached Clark & Kent Contractors to implement his private pump track, the team knew it was an opportunity not to miss. The initial consultation and design brief required a cost-effective solution for various riding options. The site was within a confined working area that had access issues.
Marco Dell'isola is a BMX racer based in Stoke-on-Trent who has been racing BMX around the globe for more than 25 years. Marco has competed in over 20 BMX World Championship events and is a two-time World Champion on the race tracks. In addition to this are numerous British and National Championship titles.
Clark & Kent drew up and supplied 3D designs before construction started. The track uses site-won clay-based material, and mini and micro diggers were necessary due to the restricted site access. Labour-intensive handwork was necessary for much of the track construction. Phase one of the build was to get a fully compacted riding pump track, with the second stage to include concrete surfacing on the berms and a typical limestone surface to the straights.
A four-straight design had two optional Pro straights thrown in for good measure. The track is two metres wide and includes jumps and obstacles up to two metres in height. The client called for a technically demanding layout with numerous jump options to add variety. Upon completion, the BMX track received fantastic feedback and praise from riders and sports media. The track is featured in the worldwide distributed Dirt MTB Magazine as an example of building a BMX track in a small and tight area.
The track has attracted many top riders, including former Elite World Champion Dylan Clayton and MTB professional rider Dan Critchlow. Pictured is former British Elite BMX Champion and Stay Strong rider Martin Murray of England. He was extremely pleased with the track and described the berm construction as second to none.